Free video effects and filters
Add effects and filters to your videos online. No account required.
How to add effects and filters to a video
Choose from dozens of effects and filters available on CreatorKit. You can also use your Instagram effects and filters. Use our free online video platform to add filters and effects in minutes!
Did we mention it's completely free?
Choose your video
Upload your video in any format: MP4, WAV, MOV, AVI, WebM and many more.
Add any effect
VHS, Glitch, Filmic effects, and many more! Choose from our effect list.
Download it for free in HD
Download your video for free, optimized for all social media platforms including Instagram, Facebook, YouTube, and TikTok!
Edit any video
from your phone
Designed to run on both Android and iOS devices, use video effects in minutes without downloading an app
Get the best filters for YouTube videos
Our video effects won't affect the quality of your videos. Use our filters to make your YouTube videos even more engaging!
Best Instagram effects
Have you checked out our List of Best Instagram Story Effects? We created many of our filters and effects based on the most popular Instagram Story Effects.
Platform features
CreatorKit is the best video editor tool to create engaging social media content. At least that's what we believe! No registration is required to use any of our simple tools, like our video effects and filters tool. No video editing experience is required, and you'll become a pro in no time.
Video Effects App
An online video maker designed for anyone. No experience required.
Effects On Videos Online
No need to download an app or browser extension. Use on any device. A 100% online video editor platform.
Add Filters Without an Account
No user registration needed. Add effects to any video and download it for free without registration.
Edit any format
Works with MP4, MOV, AVI, WebM and the list goes on!
Secure processing
Your data is protected with industry-standard security measures. We delete videos after processing them.
Designed for Social Media
Share your video in any social platform you choose: TikTok, Instagram, LinkedIn, Facebook, Twitter, and more.
Add video effects online
We built CreatorKit to make it super easy for anyone to create high-converting videos. Adding effects and filters to videos online shouldn't be complicated.
Want to see how? Check out our tutorial:
Why choose CreatorKit?
CreatorKit is a fully featured video platform designed for marketers or just about anyone who wants to create high-conveting videos. Some of the features that make us different include:
Animated Text Styles instead of Static Text
Hundreds of Video Templates
Smooth Video Transitions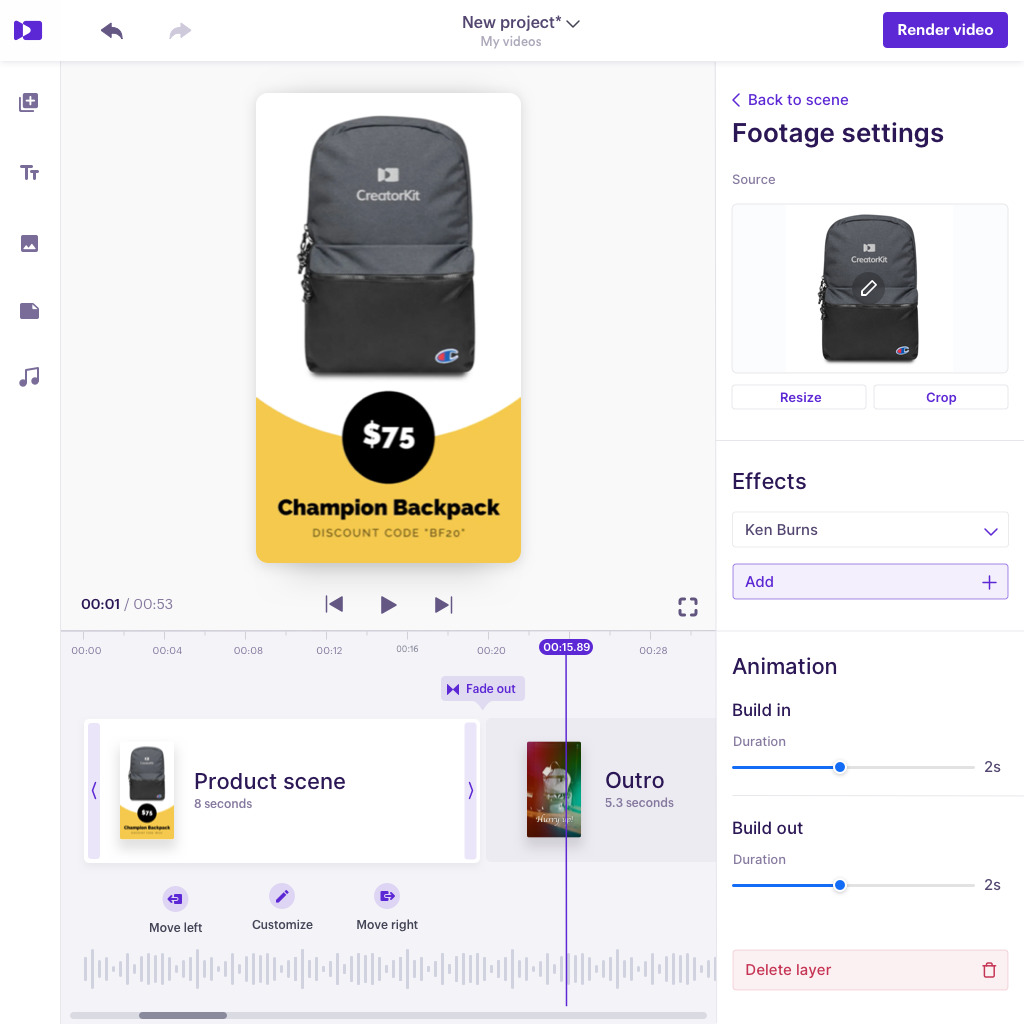 But wait, there's more!
CreatorKit is a lot more than just a tool to add effects to videos. Here are a few other features we think you might find useful!
Try the best online video effect tool